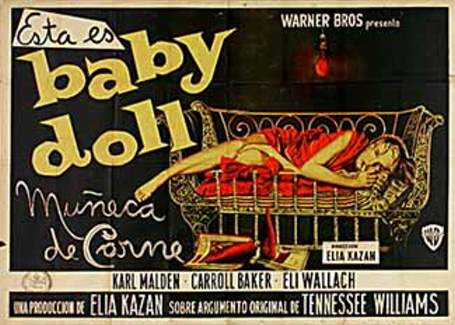 A Warner Brother's film 1956

Directed by Elia Kazan

Written by Tennessee Williams

Steamy tale of two Southern rivals and a sensuous 19-year-old virgin.



The second film pairing director Kazan with writer Tennessee Williams brought much controversy upon its release in 1956. Francis Cardinal Spellman condemned the film in a stunning attack from the pulpit of St. Patrick's Cathedral two days before the film opened, saying that the film had been "responsibly judged to be evil in concept" and was certain that it would "exert an immoral and corrupting influence on those who see it", and exhorted all Catholics to refrain from patronizing the film "under pain of sin". Cardinal Spellman's condemnation of the film led to the Legion of Decency's first-ever nationwide boycott of an American-made film produced by a major studio. All over the country, almost 20 million Catholics protested the film and picketed theaters that showed it. The Catholic boycott nearly killed the film; it was cancelled by 77% of theaters scheduled to show it, and it only made a meager $600,000 at the box office. The film was also condemned by Time Magazine, which called it the dirtiest American-made motion picture that had ever been legally exhibited.

Despite all the fuss, the Production Code Administration gave it a seal of approval, (which in many ways led to the PCA drifting farther and farther away from its traditional guidelines until it was replaced by the MPAA ratings system in 1968), and Baby Doll was nominated for four Oscars, included Best Adapted Screenplay and Best Actress for Carroll Baker.

By today's standards the film is a little less shocking, but its straight-forward approach to sex and violence still stings. Miss Baker struts around in a slip while Karl Malden's ineffectual male dishes innuendo after innuendo before Eli Wallach (in his first screen role) can swoop in and squeeze himself uncomfortably between the two. The acting is top-notch, and the tension starts on high and simply mounts with each progressive scene. A surprising amount of humor is wrung out as well; for all the seriousness going on, the film ultimately shapes itself as a sexual farce. The delta setting, including a dilapidated mansion, is gorgeously portrayed in detailed black and white.

Baby Doll is one of Kazan's forgotten masterpieces, a sort of sick sibling of Streetcar. Worth hunting down.