The Middle Circle: Personal Style

One of Tashlin's most renowned trademarks was his use of reflexive intertextual references – a self-conscious referral to outside texts in order to derive meaning or develop humor. Tashlin used topical references in almost all of his films: Artists and Models features James Stewart in a cameo appearance on a balcony with telescopic camera, as well as a comic book character strikingly similar to Batman; Son of Paleface features Roy Rogers in a role lampooning his own screen image.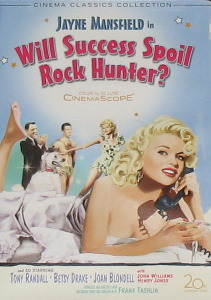 However this practice culminates most notably in Will Success Spoil Rock Hunter?, where much of the film's humor is derived from intertextual references. Take, for example, the films Brechtian introduction, in which Tony Randall mistakenly presents the movie's title as The Girl Can't Help It. That particular film, also directed by Tashlin, is mentioned repeatedly throughout Rock Hunter; along with Kiss Them For Me and The Wayward Bus, it is established as one of mega-star Rita Marlowe's former screen credits – another intertext, as these three titles are all real films in which Jayne Mansfield, the actress who plays Marlowe, formerly performed.




Mansfield herself acts as an intertext throughout the entirety of the film. Her bleached-blond buxom looks and incessant squeals emulate another blond bombshell, Marilyn Monroe. When Marlowe mentions that "the studio is worried about my acting in my upcoming drama", one can't help but think of fervor surrounding Monroe's first dramatic role in 1956's Bus Stop. Even the name Rita Marlowe is a send up of famous female film stars; a combination of Rita Hayworth, Jean Harlow, and Marilyn Monroe.

Tashlin's use of intertextuality finds it root in his early work in animation. The majority of his Warner Brothers cartoons are riddled with popular references, both timely and timeless. Of course, this is not specific to Tashlin but to the Warner Brothers animation style as a whole. Take, for example, Bob Clampett's 1939 short The Film Fan, in which Clark Gable and the Lone Ranger make an appearance, or I.Freleng's 1936 short The CooCoo Nut Groove, which stars cartoon counterparts of Ben Bernie, Groucho Marx, W.C. Fields, Fred Astaire, John Barrymore, Mae West, and Laurel and Hardy, among others. In general, these references aimed to spoof or lampoon well-established stars for humorous purposes.




However, Tashlin's use of star references often-extended beyond simple mockery. The 1944 short Swooner Crooner is a great example of this: a group of hens laying eggs for the war effort get distracted by a rooster who looks and sings like Frank Sinatra, bringing egg production to a halt. Porky Pig, acting as supervisor, rushes to investigate and soon finds himself auditioning for a new crooner. Caricatures of Al Jolson, Jimmy Durante and Cab Calloway are presented, but Porky settles on a Bing Crosby clone that introduces himself as "The Old Groaner". A battle of the crooners ensues, and between the two of them, egg production soon becomes more than Porky can handle. This film is an obvious nudge at working women in the war effort – multiple visual references, including a hen assembly line and a gag where bomb bay doors open to release the eggs make this clear. The caricatures serve not only as a source of humor, but act to motivate the plot of the film; their singing battle ultimately resolves the narrative conflict of how to turn the workers' inactivity into wartime production. Likewise, the contrast presented between Sinatra's sultry voice and Crosby's soothingly smooth singing makes a point about the military risks of excessive phallic power. The film is a warning for female workers against erotic distraction and reinforces the idea of domestic duty. In turn, the caricatures become essential to the plot, rather than just throw away gags. Tashlin understood the power of celebrity and used it to critique society – something he would do again later in his career with both The Girl Can't Help It and Will Success Spoil Rock Hunter?.

Of course not all of Tashlin's cartoons were as insightful as Swooner Crooner. As Greg Ford points out, Tashlin's 1937 short Speaking of the Weather "was, in many senses, a typical Warners "Merrie Melody" (80), and Tashlin had many other shorts of the same vein, including 1937's The Woods Are Full of Cuckoos and 1938's You're An Education. These 'Merrie Melodies' often featured inanimate objects anthropomorphized to the tune of a licensed Warner Brothers radio single. They too often featured topical subjects – current magazines, radio stars – although they lack the critical punch of some his narrative shorts. While seemingly innocuous, the 'Merrie Melodies' provided a good framework for the rock'n'roll intertext of Tashlin's The Girl Can't Help It, as then-rock sensations such as Little Richard, The Platters, and Fats Domino help the film movie along in musical interludes that mirror the 'Merry Melodies' style.



Due to Tashlin's frenetic pacing, much of the topical humor in his films is easy to miss. However, he undoubtedly reviled in the use of intertext as both a source of humor and satire throughout his career, making it a mainstay of his style.

Check out Tish-Tash pt.1!
Check out Tish-Tash pt.2!

Part 4: The Inner Circle coming soon!